Kids can wear the most protective masks to school, but when it comes to lunch time, and the masks come off, how do you keep kids safe?
#EatOutside and more recommendations.
Dr Alex Huffman's thread on eating outside for lunch / meals / snacks.
---
This school in Arlington, VA eats outside.
@HeidiNBC "Does this cost money?"
Principal: "Money?! No, we just used our brains!"
A school opens the doors, lets the kids outside, where they spread out, sit on blankets, and eat lunch. We don't advise unvaccinated adults eat in restaurants, why should it be any different for unvaccinated kids? Watch this clip of a school in Arlington, VA.
---
Dr. Fauci says eat outside.
@apoorva_nyc: "Would it help if the kids ate lunch outside …? How important is ventilation?"
Dr. Fauci: "Oh, it's critical, it's critical. You could be outside eating your lunch in school into November. … that would be great."
---
CDC says eating outside is best
As Dr Huffman points out, the CDC specifically states: "Eating meals outside is best."
14/ CDC talks about this on one page of guidance, but needs more emphasis on lunchtime risk.

"Eating meals outside is best. If you need to have students eat in a cafeteria, use methods such as opening windows, maximizing filtration … HEPA air cleaners."https://t.co/jA9XjPc92F pic.twitter.com/md3JfZLSC5

— Dr. Alex Huffman (he/him) (@HuffmanLabDU) September 9, 2021
---
Lunch time needs special considerations.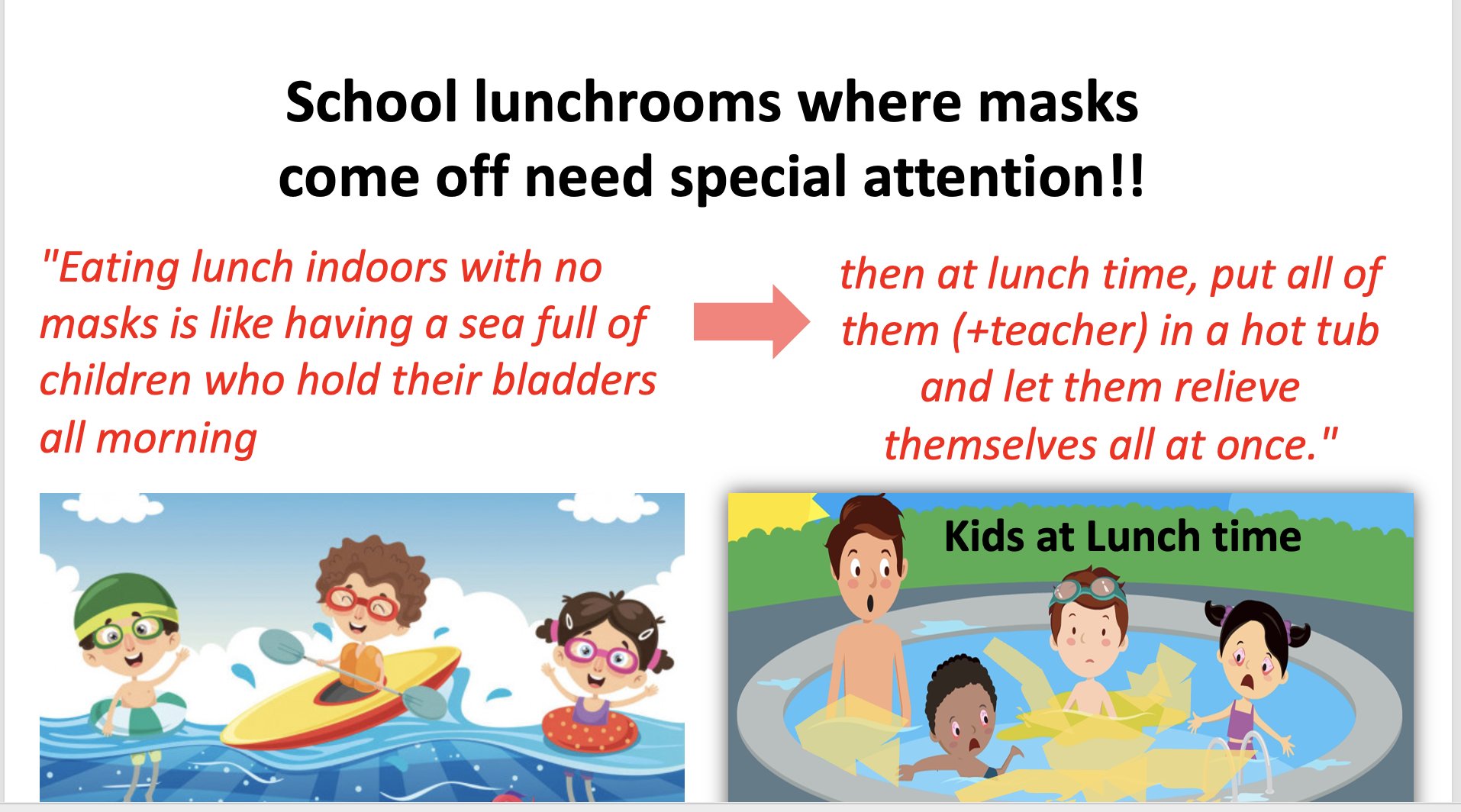 Dr Alex Huffman points out that indoor lunch is a high risk because:
Eating indoors when masks are off is dangerous, because you can breath *IN* more respiratory aerosols for two reasons:
Within the first few feet of someone you breathe air directly from their exhalation, before it dilutes
Aerosols also build-up in weakly ventilated spaces
Eat outside. If at all possible, make it happen. But if you absolutely cannot, take these steps (small groups, be quick, don't talk, ventilate, HEPA) to help keep the air clean and stagger lunch times to give some time to flush out the air between groups. (a short clip of Dr Huffman from the #DeltaSchoolsCovid expert presentation on school safety)
---
Children of America, You've Been Gaslit at Lunchtime. By Alice Virgil, Ph.D., LCSW for Psychology Today.
"As in the film Gaslight, [schools silent about lunchroom risk undermine] students' sense of truth about how the virus spreads. No wonder our kids are depressed, anxious, and traumatized. They've been gaslit by the institutions charged with their safety.": @DrAliceVirgil1
---
The immediate threat is now.
What about when it gets cold out?
Protect kids right now, today. Figure out a plan for tomorrow as it comes.
9/ I share the sense of urgency with @DrAliceVirgil1 who wrote the article above. I'm frustrated with frequent tweets back that say eating outside during cold winters can't be done. Maybe. But let's focus on the urgent risk first and let that one come.https://t.co/2ouxeJR39I

— Dr. Alex Huffman (he/him) (@HuffmanLabDU) September 16, 2021
Related Posts
The Center for Green Schools at U.S. Green Building Council has released a unique ser…